Do you have an old furniture but don't want to delete it?
Do you have a furniture inherited from a grandmother?
Do you have a furniture that is now old and you are undecided whether to delete it or not?
Do you have a furniture that you would like to change the style of even just for pure taste?
If you answered YES to at least one of these questions,
you are in the right place!
With Revì Art you now have the possibility to change it in complete autonomy
and without spending a fortune.
Thanks to a kit that you can receive directly at home and to our tutorials,
you can recycle your old furniture, without too much effort.
In addition, the illustrated Revì Art patterns will allow you to customize your furniture
making it truly unique!
Watch the video below to find out more!
Nuovo Kit Restyling di Revì Art
Recycle your old furniture with Revì Art!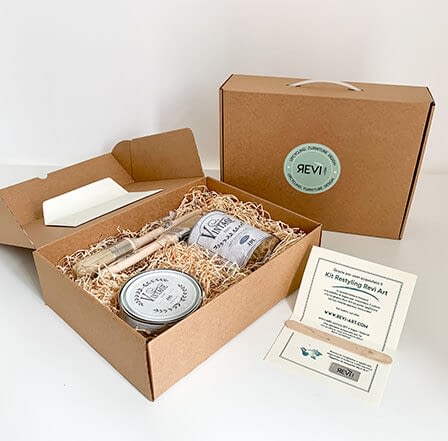 REVÌ ART RESTYLING KIT includes:
1 Revì Art illustrated pattern of 1m2
1 Vintage Paint 700 ml Color (worth € 27)
1 Protective wax of 300 gr (worth 17 €)
1 Flat brush to spread the color
1 Round brush to apply the wax
1 sheet of sandpaper for finishing
1 wooden stick to mix the color
1 Revì Art plate to complete the job
7 Free tutorials to do the job yourself
Shipping INCLUDED
All in a convenient case to store all the work tools in order!
Do you have any questions about the restyling kit and want to know more?
Write to us here and we will guide you in the choice that is right for you
Colori all'acqua naturali
I colori sono la nostra forza, utilizziamo la pittura ECOLOGICA Vintage Paint, che non necessita, sverniciatura o carteggiatura preliminare. E' una delle pochissime pitture in commercio – l'unica in Italia – destinate al restyling dei mobili ad aver ricevuto la prestigiosa certificazione europea EcoLabel che ne attesta la naturalità. Adatta per qualsiasi tipo di utilizzo, da usare comodamente anche in casa ! SCOPRI DI PIÙ
Illustrazioni originali
Su ogni stoffa o carta da parati applicabile c'è stampata un'illustrazione originale Revì Art.
Tutti i nostri temi sono ispirati alla natura! Non devi far altro che scegliere quello che più ti piace, al resto penseremo noi!